Conover Sno-Buddies 4th Annual Poker Run
Conover Sno-Buddies 4th Annual Poker Run, Conover and surrounding Area Businesses. Pit stops along Conover Sno-Buddies Snowmobile Trails, Get your game card at local area businesses. Ride the incredible trails and collect your stamps. Draw Party on March4, 202 at Twin Lake Pub!! Info: Randy Remblack / 847-980-0349 / conoversnobuddies@gmail.com.
Event location:
Conover and Surrounding Area Businesses
Event date:
December 25, 2022 07:22 AM - March 04, 2023 07:22 AM
Back
AWSC Sponsors
Please patronize our 1,200+ commercial sponsors. For a listing by county, please click here.
Join A Club Now
Looking to join a snowmobile club? We have a complete list of clubs by county. Simply click on the county.

WI Trail Pass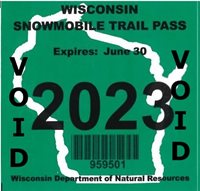 You are able to order your trail pass four ways: online, call the AWSC office, walk in to the AWSC office or mail your order to the AWSC office.

Each sled operating in WI is required to display a current Wisconsin Snowmobile Trail Pass.