Harshaw Wanderers SC Meat Madness and More!
4: Tomahawk, WI.
Harshaw Wanderers SC Meat Madness and More! Twin Bay, 2173 County Road L, Tomahawk, WI. 4-6:00pm. Meat raffle along with other raffles that often include beer, booze, apparel, cash, gift cards, etc. Everyone is welcome! Membership is no required *** All money raised supports the snowmobile trails *** Info: harshawwanderers45@gmail.com / https://www.facebook.com/HarshawWanderers.
Event location:
Twin Bay
2173 County Road L
Tomahawk, WI.
Event date:
February 04, 2023 04:00 PM - February 04, 2023 06:00 PM
Back
AWSC Sponsors
Please patronize our 1,200+ commercial sponsors. For a listing by county, please click here.
Join A Club Now
Looking to join a snowmobile club? We have a complete list of clubs by county. Simply click on the county.

WI Trail Pass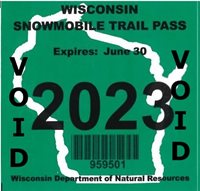 You are able to order your trail pass four ways: online, call the AWSC office, walk in to the AWSC office or mail your order to the AWSC office.

Each sled operating in WI is required to display a current Wisconsin Snowmobile Trail Pass.