Sullivan Sno-Drifters Annual Breakfast
Sullivan Sno-Drifters Breakfast, The Sullivan Saloon, 165 Main Street, Sullivan, WI, 7:00am-11:30am. We will be serving pancakes, eggs, hash browns sausage, ham, biscuits and gravy, milk, coffee and orange juice. Tickets are $9 in advance and $10 at the door for adults, Children 5-10 are $5 and under eat for free. Tickets will be available form members and at The Sullivan Saloon, Sullivan Premier Bank and Gaugert's Buss Stop. You may call Tammy for Tickets and Information: 262-490-2840.
Event location:
The Sullivan Saloon
165 Main Street
Sullivan, WI
Event date:
January 08, 2023 07:00 AM - January 08, 2023 11:30 AM
Back
AWSC Sponsors
Please patronize our 1,200+ commercial sponsors. For a listing by county, please click here.
Join A Club Now
Looking to join a snowmobile club? We have a complete list of clubs by county. Simply click on the county.

WI Trail Pass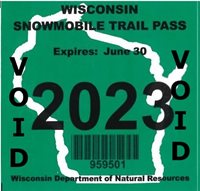 You are able to order your trail pass four ways: online, call the AWSC office, walk in to the AWSC office or mail your order to the AWSC office.

Each sled operating in WI is required to display a current Wisconsin Snowmobile Trail Pass.