All of Wisconsin's snowmobile trails are maintained by club volunteers who go door-to-door asking landowners for permission to put in a trail across their land.

Please stay on marked trails and respect the landowners who graciously allow you to travel on it.
Wisconsin has not had a statewide snowmobile map since 2005. To get county trail information, go to the Club tab and select club listing by county. Every county has a number listed for trail information and maps.
For snow/trail conditions in other states please see below:
Michigan : www.michigansnowmobile.com/trailreport
Minnesota:
www.dnr.state.mn.us/snow_depth
AWSC Sponsors
Please patronize our 1,200+ commercial sponsors. For a listing by county, please click here.
Join A Club Now
Looking to join a snowmobile club? We have a complete list of clubs by county. Simply click on the county.

WI Trail Pass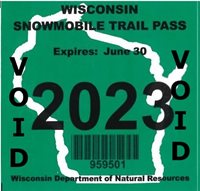 You are able to order your trail pass four ways: online, call the AWSC office, walk in to the AWSC office or mail your order to the AWSC office.

Each sled operating in WI is required to display a current Wisconsin Snowmobile Trail Pass.